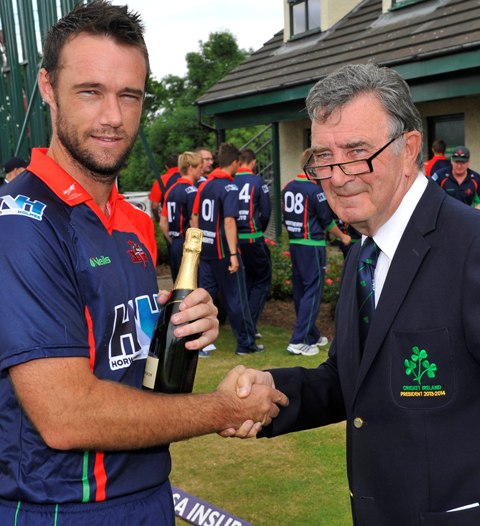 Man of the Match performances from Nigel Jones and James Shannon helped their Northern Knights side to a double success in the RSA Inter-Provincial T20 Trophy at Comber.

Jones smashed a magnificent 77 as the Knights shocked the previously all-conquering Leinster Lightning in the first game of the day, while James Shannon hit 62 as NW Warriors were beaten in the second contest.

North Down teenager Peter Eakin was the bowling star for the Knights in their morning match with Leinster, conceding just 15 runs from his four overs while picking up the wickets of the Poynter brothers, Andrew (37) and Stuart for 23.

David Simpson and Nigel Jones each took two wickets, with Jones getting the vital wicket of Lightning skipper Kevin O'Brien for just 5.

While a final total of 143-8 was considered under par on a flat track and quick outfield, it was still a challenging one given the depth and quality of a Leinster attack containing four senior Internationals.

That total looked even more daunting as Eddie Richardson (3-23) removed Andrew White and James Shannon in quick succession, but Jones rose to the challenge with a magnificent attacking knock.

The former Irish international, now employed by Cricket Ireland as Development Officer in the NCU region, practised what he preaches to his young charges, as he hit 8 fours and 4 sixes in his match winning 77 from 55 balls.

Jones received excellent support from Lee Nelson (30) in a third wicket stand of 70 which meant the Knights were always in control despite only passing the Leinster total with a ball to spare.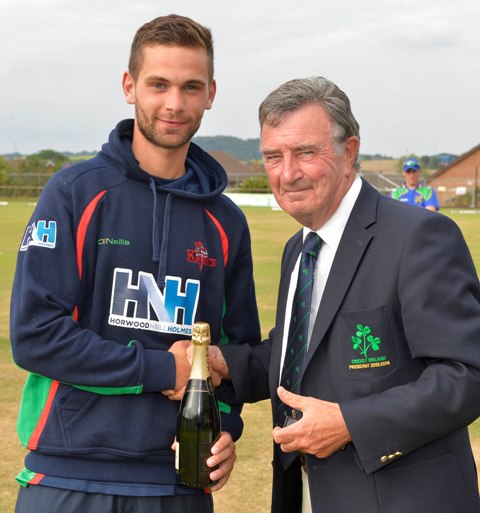 The second match followed a similar pattern with the Warriors top order batting woes continuing as they were reduced to 35 for 4 in the 8th over, before Johnny Thompson led their recovery for the second successive day.

The Brigade all-rounder struck an unbeaten 51 from 45 balls (3 fours, 2 sixes) to help the Warriors to a competitive 144-5.

He shared a fifth wicket stand of 70 in just 47 balls with Andy McBrine, who struck two sixes in a quick-fire 24, while Ricky-Lee Dougherty gave the innings late impetus with a well played undefeated 20.

Instonians left-arm spinner Ben Wylie (2-19) was the pick of the Knights attack.

His Shaws Bridge team-mate James Shannon proved the hero for his region as he struck 6 sixes and 3 fours in his 62 from just 42 balls, after the game had been evenly balanced at 54 for 3 in the 9th over.

Lee Nelson again provided a fine supporting role as he scored an unbeaten 37, while Rory McCann continued the Instonians theme with a run a ball 14 not out.

The winning margin of six wickets came with an over to spare, completing an excellent day for the Knights.

The RSA Inter-Provincial T20 Trophy will be decided in the final round of games on Sunday at Bready with Leinster Lightning and Northern Knights level on two wins each. If both are successful in their respective game against the Warriors, then the trophy will be decided by superior nett run rate. At this stage Leinster's is significantly superior to that of the Knights, so despite their defeat today, they remain favourites to lift the trophy.

RSA Inter-Provincial T20 Trophy at Comber, North Down CC on 16th July 2013

Game 1
Leinster Lightning 143-8 (20 overs, A Poynter 37, S Poynter 23, D Simpson 2-31, N Jones 2-35, P Eakin 2-15)
Northern Knights 147-5 (19.5 overs, N Jones 77, L Nelson 30, E Richardson 3-23)
Northern Knights beat Leinster Lightning by 5 wickets

Game 2
North West Warriors 144-5 (20 overs, A McBrine 24, J Thompson 51no, RL Dougherty 20, B Wylie 2-19)
Northern Knights 148-4 (19 overs, J Shannon 62, L Nelson 37no)
Northern Knights beat North West Warriors by 6 wickets